Kel's Profile
Kel

Gender:

 

Male




Age:

 

27




Country:

 

, Tennessee




Join Date:

 

31 May 2017, 8:39am (2 years, 2 months ago)




Last Seen:

 

14 Oct 2018, 1:52pm (10 months, 2 weeks ago)



About Kel:
Yeah I don't know.
My friends are dumb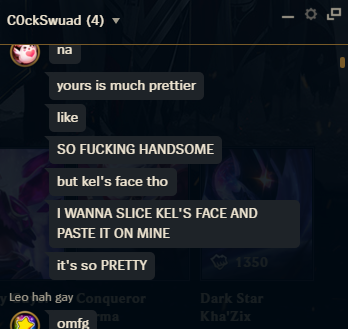 Sonastuff
This is Kel. Me. A frog.
aboutmeandstuff
Hello. The name is Kel. I like to play a lot of video games and sometimes I do other things but I'm usually too lazy to actually do anything. I love music and it's a topic I could probably talk about forever. I like to goof and joke a lot so I guess expect that. I don't know, I'm also pretty shy so sorry about that.
--You can find me at these places if you feel like it.--
.
Twitter
.
Tumblr
.

Howls (8)