loney's Profile
loney

Gender:

 

Other




Age:

 

unknown




Country:

 

unknown




Join Date:

 

2 Oct 2016, 10:31pm (4 years ago)




Last Seen:

 

21 Nov 2018, 4:43am (1 year, 11 months ago)



About loney:
"I think i lost my halo.."
✘Comet
Bisexual | Tired | Tauros
if your my friends, i cant thank you enough for actually talking to this piece of teenage trash your sniffing. AS for those couple of 10 year olds who start crap over nothing, get a life please. I may say some shit but you don't need to get mad over it, and if you do i hope you see past what you hate about me and maybe we could get along? idk, thats on you.
"If you love a flower, don't pick it up. Because if you pick it up it dies and ceases to be what you love. so if you love a flower, let it be. Love is not about possession but about appreciation."
i can be a dick, but know its either because i love ya, hate your goddamn guts.. or just am in a bad mood, don't take it personally. i'm not always in a great mood so forgive me if i ever lash out and/or say something out of turn. i'm not here to be at your every command so please, leave me the fuck alone if your motive is the just take advantage of me~
Friends!
NOT in order! (if your not on there i'll add you if you ask)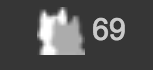 they are all paid.
~paranoia (vert/child/para)
~wolvesforlife (wolfi/gran child)
~troye (roye)
~stoff (Wifie)
~monrovia (BAD BITCH/Lion/dino)
~capz (b/stinky/stinkerbell/nugget)
Funnies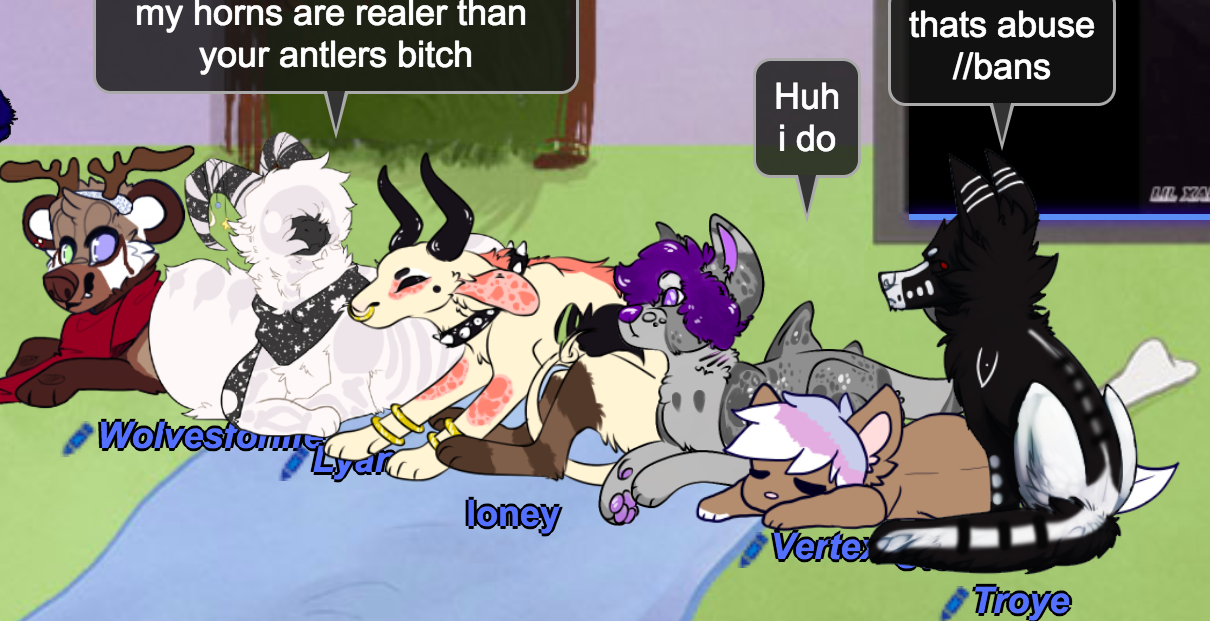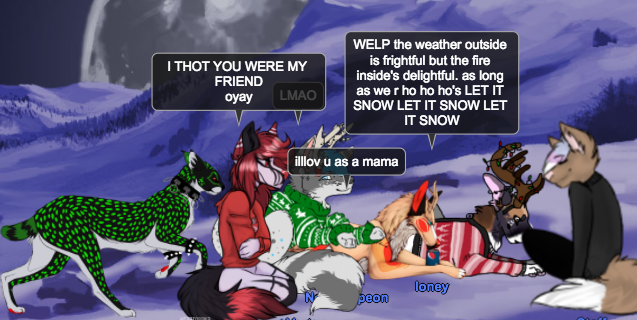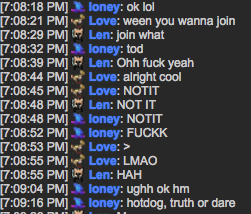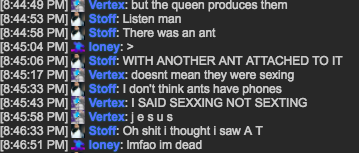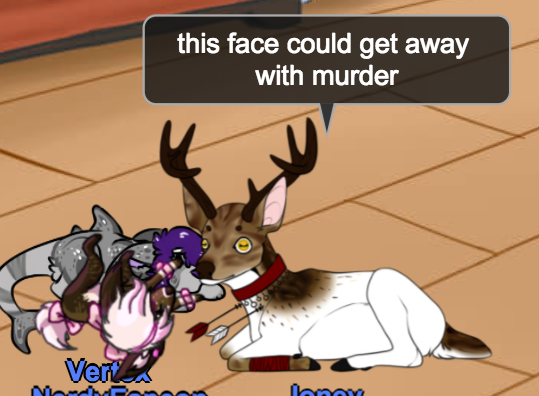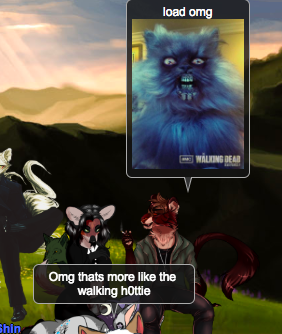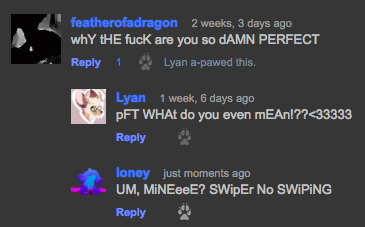 [7:33:15 PM] loney: Omfg i wish nobody was in the rooms where we could play music so we could listen to CHRISTMAS MUSIC
[7:33:19 PM] NerdyEspeon: Ive been an awful good girl :<
[7:33:26 PM] NerdyEspeon: ooo
[7:33:30 PM] Lyan: Ive been
[7:33:31 PM] Lyan: naughty
[7:33:36 PM] loney: o h
[7:33:42 PM] NerdyEspeon: I havent tbh
[7:33:49 PM] NerdyEspeon: Im a good girl
[7:33:54 PM] loney: when santa prefers bad bitches
[7:33:58 PM] loney: <.<
[7:33:58 PM] Lyan: Me2
[7:34:00 PM] loney: >.>
[7:34:03 PM] Lyan: ;)
[7:34:07 PM] Lyan: She a
[7:34:07 PM] Lyan: bad
[7:34:08 PM] Lyan: thang
[7:34:08 PM] grave: logs on aj, hears tht good ol christmas jam and SCREAMS
[7:34:09 PM] Lyan: woop
[7:34:11 PM] loney: "LION YOU BAD BITCH"
[7:34:12 PM] Lyan: fine as
[7:34:13 PM] Lyan: hell
[7:38:16 PM] Vertex: "I got ho's in different zip codes"
_________________________________________________________________
[5:08:42 PM] BlackWolf: casually sits on loney
[5:09:01 PM] loney: yes, so, what do you want for christmas young it
[5:09:38 PM] BlackWolf: I want an hp pavilion touchscreen laptop thats silver loney
[5:09:58 PM] loney: wtf, kid i dont shit technology
_________________________________________________________________
[9:19:19 AM] Paranoia: D A D D O
[9:19:25 AM] loney: YES
[9:19:28 AM] loney: ?
[9:19:34 AM] Paranoia: g u e s s w h a t
[9:19:49 AM] loney: w h at
[9:20:04 AM] Paranoia: wolvvy is my bb owo
[9:20:18 AM] Wolvesforlife: owo
[9:20:19 AM] loney: I HAVE A GRAN CHILD?
[9:20:21 AM] Wolvesforlife: .
[9:20:23 AM] Paranoia: KJHFLDSKJF
[9:20:27 AM] Paranoia: NOT THAT KINDA BB
[9:20:30 AM] loney: .
[9:20:30 AM] Wolvesforlife: LMAO
[9:20:30 AM] Stoff: LMFAO
[9:20:33 AM] loney: o h
[9:20:34 AM] Wolvesforlife: yes
[9:20:37 AM] loney: :<
[9:20:37 AM] Wolvesforlife: para gave birth to me
[9:20:41 AM] Wolvesforlife: fuckin stoopi
[9:20:46 AM] Paranoia: thats fucking incest
[9:20:52 AM] loney: wait
[9:20:55 AM] Stoff: that is incest
[9:20:56 AM] loney: ho w
[9:20:58 AM] Stoff: dont do that
[9:21:01 AM] loney: oh wolfi is
[9:21:03 AM] loney: my child?
[9:21:11 AM] Stoff: hes confused child
[9:21:15 AM] Wolvesforlife: oml
[9:21:15 AM] loney: best dAd ever
[9:21:18 AM] Paranoia: we're d a t i n g
[9:21:21 AM] loney: OH
[9:21:22 AM] loney: AWW
[9:21:24 AM] loney: <3
[9:21:26 AM] Paranoia: OMFG
[9:21:33 AM] Paranoia: slow ass
[9:21:39 AM] loney: i still would've liked a gran child better
love interest
Not Interested.
warning
Nowadays, snakes spread gossip. Choose friends wisely.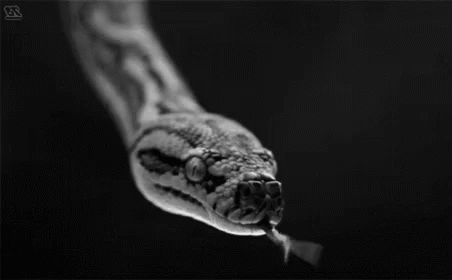 ALRIGHTY idjits, stahp sniffing my ass
Howls (437)