News and Announcements
What's news on Wolfing?
16 April 2017 11:30 PM Posted by: WolfKodi
Easter Egg HuntViews: 1923
Happy Easter!
Remember last year's Halloween candy hunt? If you missed out on that fun, we are having one for Easter this year! During our last hunt, only one user received the completion achievement and was rewarded a badge. This time, we are increasing the frequency of appearance of the hunt items and extending the event for one additional week to make it easier for more people to achieve this Easter egg hunt badge. This event will last for
3 weeks
starting from today, the
17th of April
(16th for some of you depending on timezones) and ending on the
8th of May
.
The Easter eggs are designed and created by Nunyae, Xierox and Colress. These eggs will appear randomly in any part of the rooms at any time of the day. Your quest is to find and collect them all. When you have found an egg, you can click or tap on it to collect them. You can only collect each egg once even though they will appear multiple times. Although these items are small, they would appear above all characters in a room so that you would always be able to collect them. The entire collection of Easter eggs is shown below.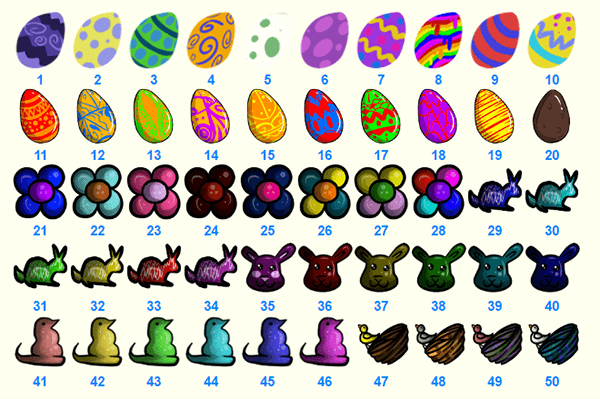 The eggs are divided into these 4 categories of rarity:
Very Common
Candy number: 1-20
Duration before it disappears again: 1 hour
Common
Candy number: 21-34
Duration before it disappears again: 45 minutes
Rare
Candy number: 35-46
Duration before it disappears again: 30 minutes
Super Rare
Candy number: 47-50
Duration before it disappears again: 15 minutes
During the event, you can check see how many candies your friends have collected by viewing their profile. The collection count would only show up on their profile if they have started collecting at least one egg. You can view your Easter egg collection by using this link:
View Your Easter Egg Collection
At the end of the event, users who have successfully completed their egg collection by collecting all 50 would earn themselves an achievement badge on their sniff profile. This badge will be revealed at the end of the event along with the list of users who made it.
To ensure fairness, candy collection links are unique for each user and the sharing of links would not work.
You do not need to refresh a room to see a new egg appear. It will appear by itself.
Since the appearance of eggs are randomly created by the system, Wolfing Leaders do not have any prior knowledge of their appearance over the users and are therefore allowed to participate and attempt to earn the Easter egg hunt badge.
Credit for the two Easter-themed event poses goes to
Nunyae
NB!
If you only see the Halloween candies, do a hard refresh in a room: ctrl + shift + R.
Happy hunting,

Leaders
Howls (25)