News and Announcements
What's news on Wolfing?
15 December 2014 04:38 PM Posted by: WolfKodi
Introducing Wolfing's Blocking FeatureViews: 1682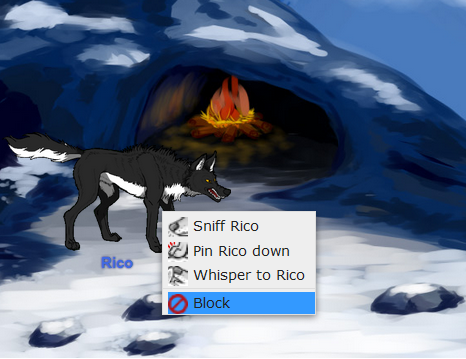 While Wolfing offers a wonderful way to have fun and keep in touch with friends with similar interest, as with any social network, there is potential for people you would rather not be in touch with or have them contact you. Our privacy is our basic right. There are times when we do not want to share our custom poses or public room activity with certain individuals. The option to block also allows you to take immediate action against users who may decide to notoriously spam your inbox or wrack havoc in rooms especially when a Wolfing Leader is not immediately available to take control of the situation.
There are currently two ways you can block someone. First, by clicking on their character while in a room. Second, by visiting their profile and using the block option that shows up there. There are also currently two ways to unblock someone. You can either visit their profile or by managing your block list. You can find the option to manage your block list under your account settings page.

What happens when you block someone on Wolfing? People you block can no longer see any of your messages, interactions, images, and videos that you share in rooms. They will not be able to see your character including any poses that you use. They will also not be able to whisper to you, howl a comment or reply to any comments on your profile, or send you a private message (PM). Blocking is done discreetly. The person won't be notified that they've been blocked.
Keep in mind that blocking someone may not prevent all interactions, such as knowing who has the remote in a video room, and only affects your experience on Wolfing, not elsewhere on the web. Blocking is reciprocal, so you also would no longer be able to do any of the above as well unless you unblock them. This may come in handy when you would like to immediately block a pose that might be disturbing to you. Also note that blocking a person does not automatically unfriend them. You will have to unfriend them to stop receiving their Howl updates on your Pack Howls.
Christmas is a time of sharing, and not a time of introducing a blocking feature. However, this blocking feature has been highly anticipated by those who will find benefit from it. It is a basic social feature that I have long wanted to get done and I am glad I have.
Howls (20)